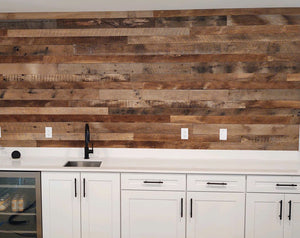 The Beauty of Barnwood for Your Next Project
Weathered naturally by the passage of time and exposure to the elements, antique, barnwood siding, re-purposed from virgin, old-growth wood, is prized for its enduring nature. Each plank and can be milled into a wood of distinctive strength, character, and durability. This historic wood can provide many more years of timeless beauty in your space.
Let us help you find the perfect barnwood solution for your next home or business renovation project.
Don't Miss Out on Your Next Treasure
We are always on the hunt for the most beautiful reclaimed materials. Most of our finds are from Missouri, and we have new inventory arriving weekly in all of our locations. Check back here often for some of our most recent finds and be the first to claim a piece of history as your own!